Bodynamic is a precise and practical approach to working with the body to make verbal psychotherapy more efficient and effective. This somatic therapy enables the practitioner to make precise interventions related to the developmental origins of your clients' current problems. Bodynamic International offers a diversity of training programs. Currently there exist five basic types of training.

Workshops
Workshops are a great way to experience aspects of the Bodynamic system without making a longer commitment to a training program. Many different workshops have been offered over time and many new ones are constantly created. Typically lasting 1-5 days there are no prerequisites to taking these. Workshops have had the following subject matters:
Archetypes
Centering, Boundaries & grounding
Boundaries vs. Limits
Dance between Mutual connection & Dignity
Work with your own greatness
Spirituality
Some workshops are now available online live, and can be participated in from anywhere in the world! See the top of Global Training Schedule below.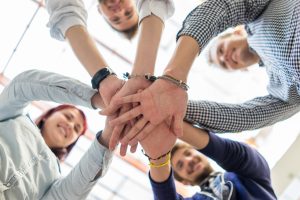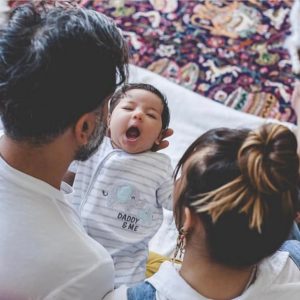 Foundation
The Foundation Training is the one-year basic training of Bodynamic System. During the basic training you will learn the character structures, the character positions as well as the basic meanings to understand contact and communication as it is presented through the system (mutual connection, dignity, boundaries, centering and grounding).
The structured description of the different phases of development during childhood, which include a central developmental issue and their connection with the different developing defense mechanisms, provide a comprehension frame of human expression. Through the education you will strengthen your abilities, so that you are present and precise in your professional work.
The Foundation Training applies to people who work with other people as: psychologists, psychotherapists, social workers, teachers, doctors, advisers, physiotherapists, alternative healers etc. or to people that wish to improve their interpersonal relationships. The Foundation Training is an open education circle, which helps you to enhance or improve your skills, while, at the same time, it provides you the possibility to continue to the 3-year Practitioner Training.
Practitioner
This is a three year training program to be a professional certified Bodynamic Body Psychotherapist. This training is already being integrated and used also in other forms of psychotherapy, all kinds of bodywork, social work, business consulting and mental health and care professionals who want to expand their knowledge and precision by learning the muscles coding system.
This training has being qualified in Denmark through Reflektor, a company that evaluates and analyzes the professional standards in the public and private sector to assure and create better quality for the health sector. Prerequisite to participate in Bodynamic's Practitioner Training is to have finished Bodynamic's Foundation Training.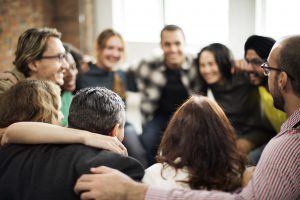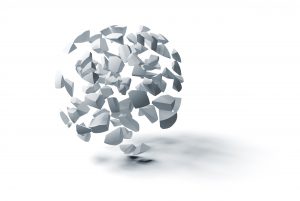 Shock Trauma
Our P.T.S.D. Training consists of two parts. The first part (PTSD I) is the personal process of healing your own P.T.S.D. in 3 modules. The second (PTSD II) is the Training in healing P.T.S.D of others also in 3 modules. The Shock Trauma training is available to anyone and there no prerequisites.
Personal process of healing your P.T.S.D (PTSD I) – Our experience has taught us that when someone hasn't worked with his own PTSD, they get too much into their own process during the course and they do not gain everything the training has to offer. So therefore we added a three module course in which you get the chance to work first with your own PTSD. During these modules the focus will be on each persons process. This adds invaluable experience and gives us the client's point of view. This will deepen and strengthen your ability to connect and your empathy in treatments will emerge more naturally. The first stage is also addressed to non professionals who want to start the process of healing their own PTSD.
Training in Shock Trauma and healing P.T.S.D. (PTSD II) – During the second stage of PTSD II you will learn, amongst other things, how to recognize the symptoms of P.T.S.D. and the life-changing decisions which are connected with trauma, how to heal it and how to include the body in a direct and natural way, using methods like body sensing and understanding reflex movement patterns. The Shock Training applies to people who work with other people as: psychologists, psychotherapists, social workers, teachers, doctors, advisers, physiotherapists, alternative healers etc. Completing PTSD I is a prerequisite for PTSD II.
Specialist Classes
Specialist Classes consist of training in the following areas:
Full Bodymap (prerequisite: first 2 years of practitioner completed, and exams passed)
Reorienting Birth for professionals (no prerequisite)
Supervision Education ( (prerequisite: first 2 years of practitioner completed, and exams passed and having clients in Bodynamic therapy)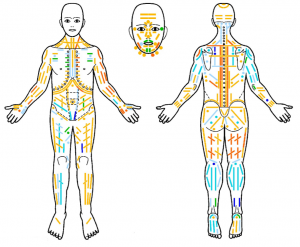 Training Paths
Training can be accomplished in a few different ways, depending on the interest of the individual. Training can also be done in stages based on time available. Shock Trauma training and Workshops can be done concurrently with Foundation, Practitioner & Specialist Classes.
Average Time taken to complete training levels:
Foundation is typically 18 days over the course of 1 year
Practitioner is 75 days over the course of 3 years
Completing both Specialist Classes is ~28 days
Shock Trauma is 30 days over the course of about 1.5 years
Traditional International Path

*Note: The Training path for North America (Canada & United States) differs slightly. While Healing Developmental Disruptions is similar in scope and length to a Foundation training, the content differs slightly. While Healing Developmental Disruptions teaches the use of some muscles and Foundation does not, it misses out on other aspects. Missing aspects are included in the North American Practitioner Training. For more information on Healing Developmental Disruptions please visit bodynamicsusa.com
become a
Bodynamic Analyst
by completing:
Foundation Training

Practitioner Training

Shock Trauma Training – I & II

Specialist Classes

Full Bodymap

Reorienting Birth for professionals
Scroll left and right to see training dates
⇔
 Live Online Training
Online (Europe Time Zone)
Foundation
English
Feb 18 – 20, 2022
Apr 15 – 17, 2022
May 13 – 15, 2022
Jul 8 – 10, 2022
Sep 16 – 18, 2022
Oct 14 – 16, 2022
Nov 25 – 27, 2022
Online (Europe Time Zone)
Workshop: How to work with the mind when the body has given up
English
Nov 10 -13, 2022
Online (Europe Time Zone)
Foundation
English
Mar 3 – 5, 2023
May 5 – 7, 2023
Jun 30 – July 2, 2023
Sept 8 – 10, 2023
Oct 20 – 22, 2023
Nov 17 – 19, 2023
Dec 15 – 17, 2023
Online (Europe Time Zone)
Practitioner
English
Starting Jan 25, 2023
 International Master Classes
Near Copenhagen
Supervision Education
English
10-14. November 2021
12 – 16. January 2022
2 – 6. March 2022
7-11. September 2022
 Brazil
Rio de Janerio
Practitioner
13 x 6 days
(wrong dates at link to Brazil calendar)
English
with translation into Portuguese
June 6 – 11 2019 (1/13)
Oct. 10 – 15 2019 (2/13)
March 19 – 24 2020 (3/13)
May 28 – June 2 2020 (4/13)
Sep. 24 – 29 2020 (5/13)
March 11 – 16 2021 (6/13)
June 10 – 15 2021 (7/13)
Oct. 7 – 12 2021 (8/13)
March 17 – 22 2022 (9/13)
June 2 a 7 2022 (10/13)
Sep. 29 – Oct. 4 2022 (11/13)
March 16 – 21 2023 (12/13)
June 15 – 20 2023 (13/13
| Bulgaria | | | | |
| --- | --- | --- | --- | --- |
English with translation into Bulgarian
Starting October 19, 2023
Finishing June 8, 2025
Contact Irena Anastasova
irena.anastasova@abv.bg
for more info
English with translation into Bulgarian
15-19 November, 2023
7-11 February, 2024
17-21 April, 2024
19-23 June, 2024
Contact Irena Anastasova
irena.anastasova@abv.bg
for more info
 Canada
Edmonton
Practitioner
English
Starting
Sept 8, 2021
 Denmark
Hørsholm
Lukket for tilmelding
Chok Traume
5 x 6 dage
 Danish
3 – 7. november 2021
19 – 23. januar, 2022
16 – 20. marts 2022
8 – 12. juni, 2022
28. sep.– 2. okt., 2022
7 – 11. december, 2022
Hørsholm
Åben for tilmelding
Chok Traume
5 x 6 dage
udsat
Danish
16 – 20. november 2022
 15 – 19. februar, 2023
 3 – 7. maj 2023 30 august – 3. september, 2023
1 – 5. november, 2023
24 – 28. januar, 2024
Hørsholm
Start 2022Åben for tilmelding
Foundation  4 x 5 dage
Danish
12 – 16. Oktober 2022
30 nov. – 4. dec.   2022
8 – 12. marts 2023
23 – 27. august 2023
Hørsholm
Mulighed for tilmelding indtil 24/1-22
Practitioner
Danish
Oct 6, 2021 to April 6, 2025
Hørsholm, near Copenhagen
Supervision education
English
10-14. November 2021
12 – 16. January 2022
2 – 6. March 2022
7-11. September 2022
 Germany
Munich
Shock Trauma
English with translation into German
1. Modul: 30.11. – 04.12.2022
2. Modul: 15.02. – 19.02.2023
3. Modul: 10.05. – 14.05.2023
4. Modul: 27.09. – 01.10.2023
5. Modul: 29.11. – 03.12.2023
6. Modul: 28.02. – 03.03.2024
Munich
Foundation
1. Modul: 18. – 21.11.21
2. Modul: 17. – 20.02.22
3. Modul: 12. – 15.05.22
4. Modul: 21. – 24.07.22
5. Modul: 06. – 09.10.22
6. Modul: 08. – 11.12.22
Cologne
Practitioner
English with translation into German
Feb 19, 2020 – Feb 11, 2023
Trier
Intro Workshop
German only
24.09.22 – 25.09.22
Trier
Foundation
German only
1. Modul: 11.11.22 bis 13.11.22
2. Modul: 24.02.23 bis 26.02.23
3. Modul: 21.04.23 bis 23.04.23
4. Modul: 12.05.23 bis 14.05.23
5. Modul: 30.08.23 bis 03.09.2023
6. Modul: 06.10.23 bis 08.10.23
|  Greece | | | | |
| --- | --- | --- | --- | --- |
| Online | Foundation | Greek | TBD | |
|  Netherlands | | | | |
| --- | --- | --- | --- | --- |
| Amsterdam | Workshop: Archetypes I | English | Jun 1-5 & Oct 26-30, 2022 | |
|  Poland | | | | |
| --- | --- | --- | --- | --- |
| | | | | |
| Wroclaw | Practitioner | English with translation into Polish | Starting Nov 3, 2021 | |
| Portugal | | | | |
| --- | --- | --- | --- | --- |
Jan 25 – 29, 2023
May 4 – 7, 2023
English with translation into Portuguese
Starts June 21, 2022
Ends Nov 9, 2025
English with translation for Portuguese
Mar 2023, 15 to 19 / Online
May 2023, 17 to 21 / Online
Jul 2023, 5 to 9 / In Person
Sep 2023, 20 to 24 / In Person
English with translation for Portuguese
Starting Jul 2024, 9 to 14
| Russia | | | | |
| --- | --- | --- | --- | --- |
| Moscow | Intro & Attatchment Workshop with Lisbeth Marcher | English with translation into Russian | June 19 – 21, 2020 | |
|  Turkey | | | | |
| --- | --- | --- | --- | --- |
English with translation into Turkish
Apr 5 – 9, 2023
Jun 1 – 4, 2023
Sept 27 – 30, 2023
Nov 15 – 19, 2023
 Ukraine
Kiev
Shock Trauma – PTSD 1
Russian
Starts in October, 2020
E-mail Inna at:
inkagav@yahoo.com
for more info
Ternopil
Foundation
Ukrainian
June 2 – 6, 2021
Aug 4 – 8, 2021
Sep 15 – 19, 2021
Oct 27 – 31, 2021
E-mail:
inkagav@yahoo.com or oleh.hukovskyy@gmail.com
for more info
Kiev/ Postponed
Reorienting Birth
English + Russian
1st course: 17 – 21.06.2020

2nd course: 14 – 18.10.2020

E-mail Inna at:
inkagav@yahoo.com
for more info
United Kingdom
London
Foundation
English
May 18 – 22, 2022
Sept 21 – 25, 2022
Nov 2 – 6, 2022
Jan 18 – 22, 2023
London
Shame Workshop
English
Oct 14 – 16, 2022
London
Shock Trauma Training
English
Apr 19 – 23, 2023
Jun 7 – 11, 2023
Aug 30 to 3 Sept, 2023
Nov 22 to 26, 2023
Feb 7 – 11, 2024
May 1 – 5, 2024
|  United States of America | | | | |
| --- | --- | --- | --- | --- |
| Boston | Integration Module | English | March 25 – 27, 2022 | |
| | | | | |
Training Coordinators by Region
 Brazil
 Andrea Miranda
andreamcmiranda@gmail.com
 Bulgaria
 Irena Anastasova
irena.anastasova@abv.bg
 Canada
 Jonathan Zerbin
jonathan@bodynamic.com
 Canada
 Arijana Lukic
arijana@bodynamic.com
 Denmark
 Nadine Vinther
nadine@bodynamic.dk
 Germany – Bavaria
 Michael Rupp
michael.rupp@bodynamic.de
 Germany – Bavaria
 Anna Wolter
anna.wolter@outlook.com
 Germany – Rhineland-Palantine, Saarland
 Patricia Graul
graul@panambi.de
 India
 Rashmi Ajay
rashmi9944@gmail.com
 Greece
 Kalliopi Zorzou
kalliopi@bodynamic.gr
 Luxemburg
 Patricia Graul
graul@panambi.de
 Netherlands
 Kristina Vasiljevaite
kristina@bodynamic.com
 Hong Kong
 Karen Wong
georgetown94@gmail.com
 Israel
 Adily Elstein
adilyel@gmail.com
 Poland
 Marta Ułaszewska-Żuk
marta@interp.pl
 Portugal and Spain
 Marlene Barroso
info@psicossomatico.pt
 Ukraine
 Inna Gavryliuk
Inkagav@gmail.com
 United Kingdom
 Prahlad Galbiati
contact@prahlad.info
 USA
 James Nicholas
james@bodynamic.com