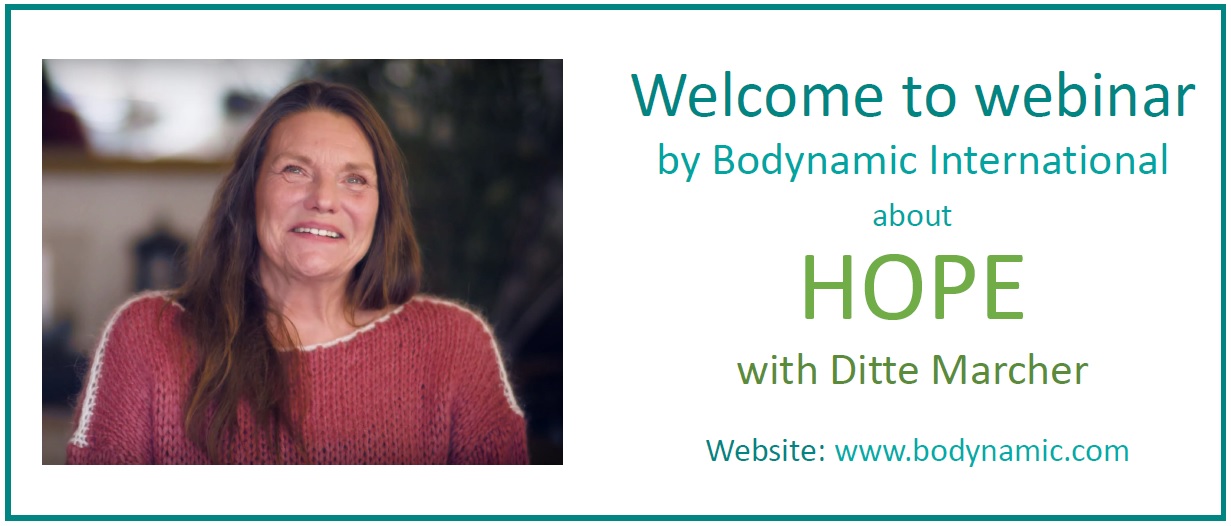 Bodynamic is offering a Free Webinar in these Corona times. If you are feeling down or feel like you have lost hope, this webinar is for you.
Hope can create miracles.

Hope can decide who lives and who dies.

Hope can support you in choosing life instead of the fear of death.

Hope is contagious – the best virus in the world.

You can do what you want, if you want what you can do.
Webinar Topics:
Learn how to build up hope from within and the ability to surrender into.

To learn to be hopeful in a concrete and realistic way and not to attach hope into magical thinking.

The strength in hope lies in the ability to take a responsibility for one's own actions and consequences.

To recognize one's own powerlessness and surrender into it, and in that build up power and strength.

When you stop fighting to keep your illusions then you can find a strength and a power into what you can do – in short you could say – you can do what you want if you want what you can do.

Hope is more than dreams – hope is a biological condition that turns on when you can generate an inner experience of a way out.

Hope can make us survive/ create miracles – where hopelessness can kill us spiritually, mentally and psychically.
This is a little webinar of supporting and building hope through our body, mind and spirit in these Corona times.
Webinar was presented live via zoom and Facebook on April 27, 2020. Recording below.