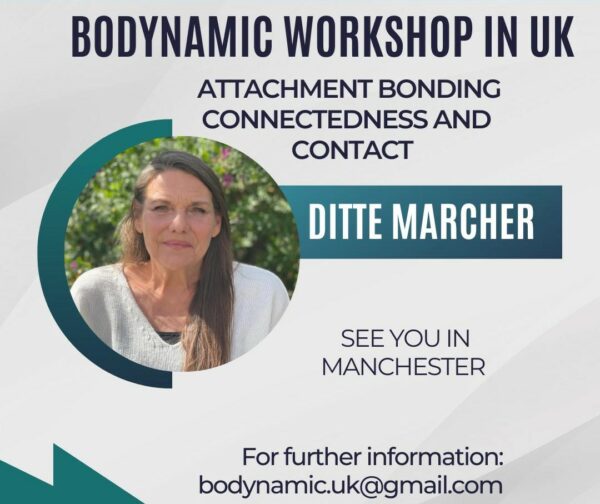 Bodynamic UK presents:
Attachment, Bonding, Connectedness, and Contact: A 3-day workshop with Ditte Marcher in Manchester, UK from June 2-4, 2023.
In this exceptional workshop, Ditte will explore the four relational principles, their meanings, the fundamental differences between them, and the common consequences of misunderstanding these differences. Some of the questions that will be discussed are:
What is the difference between attaching or connecting to another person?
How are relationships affected by seeking contact through attachment rather than connectedness?
What kind of relationship develops if we only know how to get in contact with others without the ability for connectedness?
How is bonding a fundamental development from attachment into connectedness?
The workshop will feature lectures, demos, group practices, and somatic awareness exercises, all utilizing Bodynamic tools to investigate and experience through the body. By expanding on these principles in working with your clients, you will increase their sense of safety and their ability to differentiate their experiences through the felt sense of their bodies, generating a balanced and constructive way of being in the world with more courage and less fear.
About Ditte Marcher:
Ditte was born in 1959 and is the daughter of the founder of Bodynamic, Lisbeth Marcher. She has been a member of Bodynamic since 1994, completing the full Analytic training in 1995 and training to become a Bodynamic teacher. Ditte is a therapist, supervisor, and one of the creators of Bodynamic's approach to shock trauma. She has also deeply influenced Bodynamic with the concepts of Dignity, Me, and the Layers of Feelings. Since 1995, Ditte has been teaching the Bodynamic Foundation training and has been a senior teacher in the Practitioner trainings since 2003. She has taught Bodynamic's trainings in various countries including the US, Canada, Hong Kong, Germany, Great Britain, Portugal, Spain, Russia, Belarus, Ukraine, Japan, Greece, Netherlands, Denmark, and Brazil, among others. From 2008 to 2019, Ditte was the CEO of Bodynamic International.
Fee: £495, Early Bird £375 tuition only.
To reserve your seat, please transfer payment to Bodynamic UK with the following information: sort code 402806, account 95093864, IBAN GB51HBUK40282695093864.
The venue for the workshop is The Contact Theatre, Studio 4 Oxford Road, Manchester M15 6JA.
For further information, please contact bodynamic.uk@gmail.com.