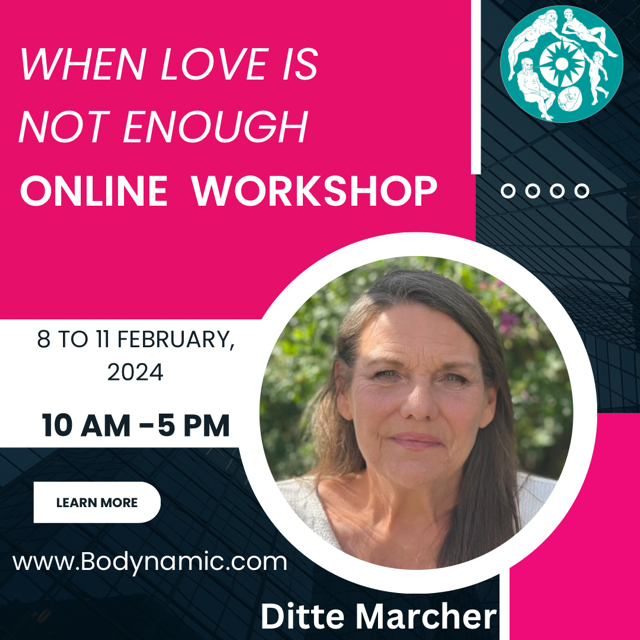 When Love Is Not Enough
This is a four-day workshop for professionals who work with clients or groups. In this workshop, we will explore the phenomenon of pain. Our brain is unable to differentiate between physical and psychological pain. When we, or our clients, are overwhelmed by pain, we often exhibit one of three behaviors: imploding and disconnecting, reverting to harmful habits to avoid pain, or displaying aggressive and hateful behavior. In pain, our ability to empathize and mirror emotions is impaired. Consequently, as therapists, our usual tools become ineffective because clients are unable to absorb or process them. Clients in pain are dysregulated in terms of cognition, emotions, and bodily sensations.
Therefore, this workshop will focus on how to engage with clients in pain, foster better regulation, and teach them to distinguish between pain, fear, and even the instinct of terror. Often, at least half of a person's pain is fear, but in the midst of pain, differentiation becomes impossible. Here, therapists need to be more proactive, stricter, and continually capable of keeping clients focused on the present. Any narrative can be irrelevant or overwhelming, and therapists must constantly assess how to intervene across cognition, emotions, and bodily sensations. We will engage with case studies, small demonstrations, exercises, and some theory.
Participants will have three months of access to the recordings. If you are unable to attend, you can purchase a seat and gain access to the recordings for three months.
Bodynamic practitioners attending the workshop will receive four hours of group supervision.
Date: February 8-11, 2024
Hours: 10:00-17:00 CET with a 90-minute lunch break at 13:00
Early bird price: €500 until January 17, 2024
Normal price: €750
Registration: Please contact Yorgos Piaditis at info@bodynamic.gr
Meet your Trainer: Ditte Marcher
Ditte Marcher is a remarkable individual whose work in the field of Bodynamic somatic Psychology has inspired and transformed countless lives. As the founder of the bodynamic shock trauma training and veteran training she is the driving force behind the Bodynamic system, Ditte has dedicated her life to helping people heal from trauma, develop greater self-awareness, and access their full potential.
What sets Ditte apart is her unwavering commitment to empowering others. With a deep understanding of the mind-body connection, she has developed an approach that recognizes the unique interplay between our physical, emotional, and psychological states. By combining psychotherapy with bodywork and movement techniques, Ditte has created a powerful methods that allows people to access the wisdom and insights of their own bodies, and to tap into their innate capacity for healing and growth.
But Ditte's impact extends far beyond her groundbreaking work in Bodynamic Somatic Psychology. Throughout her career, she has served as a mentor, teacher, and guide to countless individuals, helping them to develop their own skills and abilities as therapists and healers. Her infectious passion and boundless enthusiasm for the work she does have inspired many to follow in her footsteps and pursue their own paths of healing and service.
Whether she is working one-on-one with clients, leading workshops and trainings around the world, or simply sharing her wisdom and insights with those around her, Ditte embodies the very essence of inspiration. Her unwavering commitment to helping others heal and grow is a testament to the transformative power of compassion, courage, and dedication.