Fundraising Workshop:
How to Support People in Acute Shock and Crisis
3 day Online Workshop for Fundraising
05 / 06 / 12 April 2022
18.30-22.30 CET

Price: €250
All workshop proceeds will be donated to Ukrainian refugee support
Booking
More Information:
If you have any questions, please send an email to:
Yorgos Piaditis – info@bodynamic.gr
Volker Dammann – vdammann@gmail.com
Workshop Flyer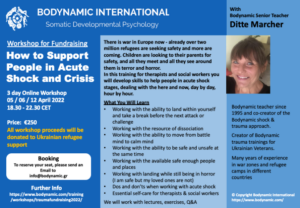 Workshop Contents
There is war in Europe now – already over two million refugees are seeking safety and more are coming. Children are looking to their parents for safety and all they meet, and all they see around them, is terror and horror.
In this training for therapists and social workers you will develop skills to help people in acute shock stages, dealing with the here and now, day by day, hour by hour.
What You Will Learn
Working with the ability to land within yourself and take a break before the next attack or challenge
Working with the resource of dissociation
Working with the ability to move from battle mind to calm mind
Working with the ability to be safe and unsafe at the same time
Working with the available safe enough people and places
Working with landing while still being in horror (I am safe but my loved ones are not)
Dos and don'ts when working with acute shock
Essential self-care for therapists and social workers
We will work with lectures, exercises, Q&A
Bodynamic Senior Teacher
Ditte Marcher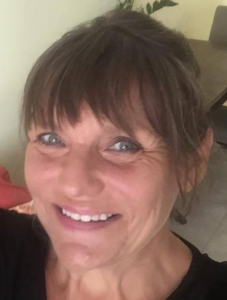 Bodynamic teacher since 1995 and co-creator of the Bodynamic shock & trauma approach.
Creator of Bodynamic trauma trainings for Ukrainian Veterans.
Many years of experience in war zones and refugee camps in different countries